Based in Grand Rapids? Ready to get in the best shape of your life? I offer two amazing ways to train customized to your unique goals.
My personal training clients range from CEOs to elite athletes to those taking their first steps in bettering themselves.
I pride myself on tailoring a program that meets your goals and making sure we design a program that's realistic, easy to follow and shows you the success you're looking for as quickly and safely as possible.
Christian has always had a way of taking his clients and working with them at their level. He always takes the time to know you on a personal level and helps find strength in what you do.
— Amy Larson (Personal Training Client since 2015)
Prefer a group dynamic? I've got you covered. I have coached for corporate wellness initiatives, small groups, couples, athletes and friends wanting to train together. I have access to several facilities in the greater Grand Rapids area and am always happy to discuss starting a new group with interested clients.
Ready to take the next big step? Click the contact button below and choose Personal Training or Small Group Training from the drop down, share your story and I'll be in touch for a consultation or evaluation!
One-on-one in-person coaching

Sessions for men, women and mixed group available

Coach Christian tailors exercises to YOU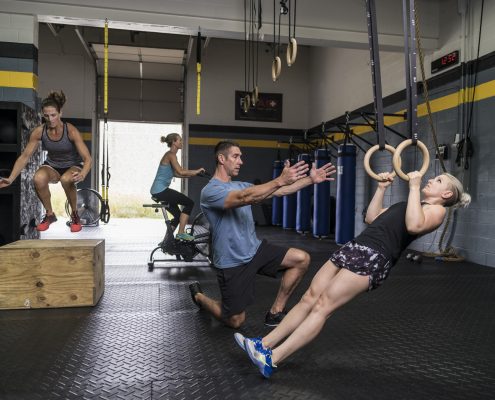 Meet Christian Roberts: Chief instigator, coach and architect behind Street Fit Coaching. If you want to improve your fitness, your nutrition and change your life, you're in the right place.
Connect With Christian Roberts: